Chikano Fujima, who lost home in disaster, says she will stay in Kamaishi to help keep tradition alive.
Justin McCurry in Osaka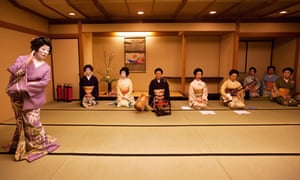 Geisha prepare to perform for guests. Chikano Fujima has promised to
keep the tradition alive in Kamaishi. Photograph: David Levene for the
Guardian
An elderly geisha who lost her house and possessions in the Japanese
tsunami has vowed to perform again in her ruined hometown, turning down
an offer of temporary shelter far from the disaster zone.
Chikano Fujima, 85, is the last remaining geisha in Kamaishi, a town
in Iwate prefecture that was badly damaged by the disaster. More than
9,800 people – almost a quarter of the population – are living in
emergency shelters.
"I'm very grateful to the people who offered to take me in," Fujima
said. "But this is my home and I don't want to leave. I have to stay
here to perform again, and keep this town's geisha tradition alive."
Fujima lost everything in the tsunami that engulfed her house while a neighbour carried her on his back to safety.
Advertisement
In an interview with the Guardian
last week, Fujima said she had lost all of her kimonos and 20 obi
belts, each worth 1m yen (£7,600), along with a shamisen – a traditional
string instrument – also worth 1m yen. Fujima, who is living at an
evacuation centre in a local middle school, said she had "never
experienced anything as terrible as this". She added that her only
apprentice had died in the tsunami.
The offer of a temporary home came after a fellow geisha working in Tokyo's Asakusa district read about her plight.
Sayuki,
an Australian who in 2007 became the first westerner to qualify as a
fully fledged geisha, contacted a friend in the coastal city of Fukui,
who offered to share her home with the elderly performer.
"When I saw the [Guardian] story I thought I might be able to put them together and gave her a call," Sayuki said.
The friend, Momoko Imamura, belongs to a group of young Fukui women
who are trying to revive the city's geisha tradition. The city, located
more than 600km from Kamaishi, has only five geisha, all of whom are
over 70.
"Our priority was to give her somewhere comfortable to live,"
Imamura, 34, said. "She's had a terrible experience, and I am worried
about her now that she is having to live in a school gymnasium. We would
be delighted if in the future she is ever in a position to teach us her
skills."
Fujima, who lost several customers and friends in the tsunami, is
accustomed to adversity. She has survived wartime bombings and four big
tsunamis. Her route to safety on 11 March is the same one her mother
took, with Fujima on her back, when a huge wave hit the area in 1933.
Fujima started learning traditional Japanese dance when she was 12,
and was a popular performer at a ryotei – a traditional Japanese
restaurant – which survived the disaster.
Now, as she endures freezing conditions in the shelter, her thoughts
are turning to her 88th birthday. As the number is considered auspicious
in Buddhism, it is the age at which she hopes to give her valedictory
performance.
"Lots of people who have supported my career over the years died in the tsunami," she told the Mainichi newspaper. "I have another three years to wait before my big anniversary. I'm not going to let what has happened stop me."
Source: https://www.theguardian.com/world/2011/mar/23/japanese-geisha-tsunami-chikano-fujima